IT day 16th March 2015, CSI, Nashik chapter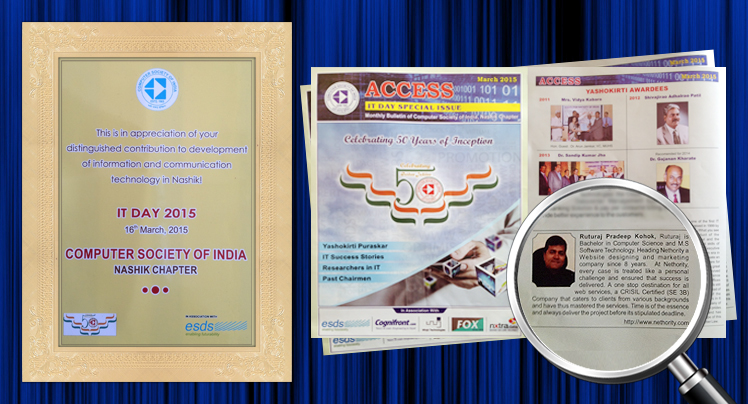 There has been an IT boom in Nashik. Earlier it was known mostly for its Manufacturing Units. However, the IT fever caught up here and the Engineering colleges in and around the city helped the sector to grow abundantly. Computer Society of India, Nashik Chapter has been a shining beacon of knowledge and guidance for this fledgling IT city. It is with immense pride and joy,we announce that we received a remarkable honor. The Computer Society of India, Nashik felicitated Nethority Technologies PVT LTD for the distinguished contribution to the development of Information and Communication in Nashik.
Our Director, Mr.Ruturaj Kohok received this honor with great happiness on the occasion of IT day. We also got a dignified mention as a Promising and Success Story in the Computer Science's golden Jubilee Magazine 'Access'. After 8 years of non stop efforts in providing solutions to every web issue, our actions finally bore fruit. On this joyous occasion, we would like to dedicate our success to our Directors, who have guided us rightly through every obstacle and our team of professionals who kept up their great work. It was only through genuine team efforts towards providing good service that has lead us to this victorious stage.
It is such awards and appreciation that will inspire us to constantly improve and innovate in this challenging sector of IT. We look forward to working on different tasks from all around the world and make a mark on the IT industry. To know more about Nethority and its services, please visit www.nethority.com